<! This cell controls the width of the left margin>
<! Start of table for page header>
Radschool Association Magazine - Vol 11

Next reunion 25-27 April 2003

31 July 2002

<! table holding navigation buttons at top of page follows>

| | | |
| --- | --- | --- |
| | Page 2 | |
<! ******************************************************> <! *> <! This is where the normal part of the page starts *> <! *> <! ******************************************************>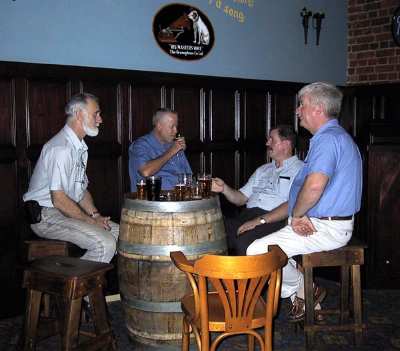 Ex Radschool instructor Frank Alley (left) with Ray Tame, John Butler and Trevor Benneworth at "The Drinking Establishment" in Brisbane earlier this year. Frank is now director of studies at Holmes Colleges in Shanghai in China, and was back in Australia on a few days leave.
We've got a mild, though inexpensive, new look. From this issue we're going to go with the blue cover (in the printed version) and we've also decided to call it the Radschool Association Magazine (from now on it's the RAM) as it's really no longer a newsletter. We hope to make it bigger and better over the next year or so, as funds permit, and we hope to make it into something that will be a focal point for all our members. We recently heard from Col Price (see page 14) and he suggested that it was a vehicle that kept us all together-we hope so. We can still do with lots more of your input though, so, if you've got any stories, photos, etc, please get them in to us as we can definitely use them.

Currently, we don't ask for any additional funding from 'members', it's a once only fee of $10, which some blokes don't want to pay, and this covers the cost of mailing, paper, envelopes, printing etc, but we don't know how long we can keep that up. Everything is done for "mates' rates" and we only pay for the absolute necessities like stamps and envelopes. There's a bloke, who used to park his car in OC's duck ponds who does our printing for free, and Sam maintains a web site for us - also for free. We've got enough funds to last until the next reunion, but after that we might have to look at a regular membership fee. If you've got any ideas, or want to comment on anything, please get back to us.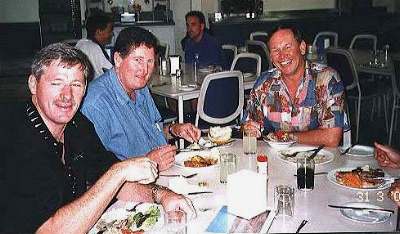 At the Airman's mess at Amberley in March 2000, sharing a meal, possibly in the same spots they used to sit so many years ago are
L-R : Ron Antiss, Stew Skerman and Geoff Mayhew.
If you look closely you'll see that Geoff is onto his dessert before Ron has even started his mains. We hear that's the way it used to be ... always waiting for Ron.
Plans for our next reunion are well underway, and we hope to put on a weekend that all will remember, and if you can walk afterwards, well, it's not our fault.
We've already had some suggestions for the Saturday night, a lot won't fit where we were told to put them, but we received one we think we should adopt. Next year those coming to the dinner will have to come in fancy dress. They reckon that when people dress up they tend to let their hair down a bit more and party just that little bit harder (it's true) so we've decided to make it a theme night, that is you've got to come dressed as some famous military hero or as a fearless crime fighter. This doesn't mean you come dressed in your old battle jacket, or your 'ralls, or your 1A's, it means you get dressed as Attila the Hun, or Julius Caesar or Darth Vader, Adolf Hitler, or Cleopatra, Wonder Woman or even Jane Marple-doesn't matter as long as in what you get dressed has a famous military or fearless crime fighter theme.
If electricity comes from electrons ... does that mean that morality comes from morons?
The theme can, of course, be as broad as you like. There's heaps of heroes from which to choose-so get the thinking gear in motion, and start planning. There'll be a prize for the best bloke's get up, and also a prize for the best blokette's get up. Don't know who the judge will be yet, but we'll find someone who can be easily, cheaply and thoroughly bribed. Neither do we know what the night will cost, but it will be about $50 per head, which will cover the dinner and drinks and a couple of other surprises we'll have on the night. More on it next issue.

The reunion will start on Anzac Day, 2003. 25 April next year is a Friday, so it will be a Friday long week end. We've got stuff planned for the 3 days which will commence with the march through Brisbane on the Friday morning (see page 10). We hope to march under the Radschool Banner which John Broughton made for us last year. We've booked the remaining area at City Rowers, a night club in the City, so after the march everyone, along with non marchers and partners of marchers, can head down to the nite club for some socialising. About 150 people (blokes and blokettes) from both 9 and 35 Squadrons have been meeting at City Rowers after the march for some years, and we've been in touch with John Webster who arranges these things, and we've agreed to share the Club with them. It costs $10 to get in which includes walk around nibblies, but you buy your own drinks at normal prices. Those that wish to hook on in can do so, and those that just want a quiety can drink to their own pace.
About 95% of all conflicts in the world are as a direct result of people trying to enforce peace, or trying to promote the word of God.
Ain't it a funny old world ...
<! ******************************************************> <! *> <! HTML for end of page follows *> <! *> <! ******************************************************>
| | | |
| --- | --- | --- |
| | Page 2 | |
Copyright © 2002 Radschool Association