Telstechs.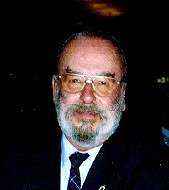 Neil Hunter (right) maintains a site (www.raaftelstechs.au.com/) [yep—that's it] which is dedicated to ex RAAF Telstechs. [Have a look]. He recently ran a couple of funny stories about a real character called Ron Lipman who was a Telstech in Darwin many moons ago, and who a lot of blokes and blokettes who were there at the time would most probably know, so we're repeating them here.
"One day the Darwin telstech workshop was to be inspected by some officer from command and everyone was expected to "do their bit" It was a Sergeant I think who asked Ron to paint a bench. Ron replied that he didn't know how to paint and therefore could not do the painting.
The bottom line was that he figured that as a TelsTech painting was not part of the job description. No matter, back came the retort to Ron, "Paint the bench Ron" or words to that effect. Ron came back with something like, "But Sarge, I don't know how to paint". In a heartbeat the Sergeant said "Paint the effing bench and that is an order".
Well those of you who knew Ron will know that that was not the way to get on his best side. Without another word Ron walked over to the shadow board got a steel rule and screwdriver and walked over to the large tin of paint. Using the screwdriver he levered off the lid and set the screwdriver down very gently and picked up the ruler. At this point we all thought that he was going to stir the paint with the ruler before starting the job. To everyone's amazement, Ron picked up the very large tin of standard issue paint and upended it on the bench and proceeded to spread it out with the steel rule. He carried on as if this were normal while everyone else stood there like stunned mullets with their mouths open - including the Sergeant. I am not sure how long it took for what had just happened to sink in but eventually the Sergeant said something like….. "What the f... do you think you are doing" !!!! To which Ron replied in that innocent tone he could put on so well, "I told you I couldn't paint". As I recall, he got away with it."
Another time he was posted south. I believe he had some items he wanted as part of his removal, something like a small bar fridge and few other bits and pieces he kept in his room. Being a single guy I think he was told that he did not have any entitlement and that he would have to pay for the items to be relocated but anything he could get into packing cases would be removed to his new posting gratis. As I recall, he got a number of tea-chests and duly filled them with ordinary house bricks, sealed the cases and marked them "Handle with Care". The Air Force had them all picked up and shipped to his new posting. I heard later that all the bricks turned up in good condition with not one broken in transit. I don't know what happened to the bricks after that.
And….as you know, back in the seventies trying to get anything electronic fixed in Darwin was just about impossible so the custom was that we could fix "foreigners" in the workshop in our spare time for which the fee was usually paid in booze. Anyway, one day the boss comes in with the SMO. I think it was Squadron Leader Thomson who is now a distinguished sports medicine specialist I believe. Ron was asked to have a look at his TV and see if he could fix it. Now while I have no doubt whatsoever that Ron could fix this thing he was never going to do it.
I am not sure if it was the boss or the Doc that said he wanted it back the next day. Wrong thing to say to Ron. So it sat on the bench until the next day. When the Doc turned up the next day to collect said broken TV somebody demanded to know why it was not fixed. Without a word Ron reached for a screwdriver and then went to the medical cabinet and got two asprin. He quickly undid the top few screws of the back cover and threw in the two asprin. He did the screws back up and said to the Doc with a deadpan expression on his face, "If it's no better in the morning bring it in again and I'll fix it for you."!!! Turned around and walked out.
Ron had previously been to see the MO when he really was quite crook with the flu and was told to take two asprin and if it was no better to come back the next day. Eventually the TV was fixed I think. I never met the person who ever bested Ron, he was very bright if a little ecsentric and his logic was always impeccable and he had a great sense of justice.
Ron? He was my hero".
Ah….the good old days.