From Ted McEvoy in the West, after sending you details of Laurie Phibbs a few weeks ago, I was really saddened to read of the passing of Trevor Lee. I was a Cpl/Sgt at 2FTS Pearce after Vietnam and worked with Trev - what a great bloke he was. I'm going to pull the pin on work around October this year, and I'm considering putting up a web site to share pics from our RAAF days (inc La-Viet). In regards to the costs of running the RAM, I'd be very happy to pay an annual membership fee or some levy to help with the costs. It must also take you and Sam some considerable time to put the newsletter and the web site together, so here's one bloke who really appreciates the effort you both put in. Thanks Ted.
John Morley, who owns one of Australia's highest altitude boutique vineyards called "Willowvale", which is up at Stanthorpe near the NSW/Queensland border, and who is a regular contributor, wrote to say:- "Another great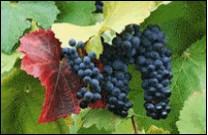 edition, keep up the good work. This year, for the first time, we are making both wooded and un-wooded Chardonnay in-house. It's a stressful time, what with all the sniffing, sipping and mothering of the bubbling brew. We are also continuing to use new Australian technology to make our wine. They are called 'Fermenter Bags' and are made from special plastics that are designed to breath in one direction. No more problematic and expensive barrels". You may wish to know that the photo you use in my column shows a vine with problems, the red leaf has a virus!
Thanks John, and if you're ever in Stanthorpe, why not call in and see John and his vineyard and sample some of his award winning brew.
We also heard from Terry Waters who says: I recently ran across the Newsletter on the Net, while looking for some stuff on the RAAF at Vung Tau (I was with IOSU 4Jun68/5Jun69 - a Groundie). I downloaded issues 1 to 10 to read at my leisure, or to pass on to others. At various times during its life, The RAAF School of Radio had a message address of RADS or RADSCL. It was also informally known as the RAAF Radio School, so I propose that these terms be included in the <META content= name=KEYWORD> field - it might improve the hit rate.
Thanks Terry, you're right, and Sam is looking at your suggestion now. And thanks for the info on the CPN4 (see page 18). Now all you've got to do is join the RRA, and get your mates to join as well….
A bloke regained conscious in hospital after being involved in a serious accident.
He shouted, "Doctor, doctor, I can't feel my legs!" The doctor replied, "I know you can't, I've cut your arms off".
We forwarded Terry Walters' email onto Niall Maguire who was a ground radar tech with the RAF back in 1954-1959. He writes:
Many thanks for the information on the AN CPN-4 GCA radar. You may be interested to know that currently, in Germany, there is an independent commission looking into the problems associated with X-Ray radiation emitted from radar transmitters of different types in service with the Bundeswehr Federal Armed Forces in the period 1960 - 1980 approximately. The main source of radiation is the thyratron and to a lesser extent the magnetron. I have worked on radar systems on and off for over 40 years, mostly in civil aviation here in Ireland. Equipments worked on include GCA, PAR, ASR, En-route, X, S and L bands. Before I retired, I was responsible for the specification, procurement, installation, commissioning and operation of a number of airport radar systems including display suites. I have undertaken consultancy work for the World Bank in Tanzania and have also done some for the Irish Aviation Authority. For some time I have been working on the problem of ionising radiation, in other words X-Rays emitted from primary radar system transmitters.
When you think about it, when do you remember seeing any warning notices regarding radiation from radar systems other than RF radiation i.e. non-ionising radiation. Most will recall seeing warnings re high voltage but radiation never. And there lies the problem. Tube manufacturers usually include warnings with their high voltage tubes but equipment manufacturers have not done so to my knowledge up to say 1980. If any one knows better I would like to hear from them.
Niall has sent us info from a study under taken by the University of Witten/HerdeckeI which was done for the German Minister for Defence. The study looked at the possible health risks to military personnel who had worked on military radar systems. It's too big to include here (5 pages) but if you want a copy, email us (radschool@yahoo.com) and we'll forward it to you. Also, have a look at this site http://www.upci.upmc.edu/internet/news/reuters/reuters.cfm?article=673. It is very interesting, especially if you're having problems…...And, if you want to get in touch with Niall, you should send your email to us first and we'll forward it on.