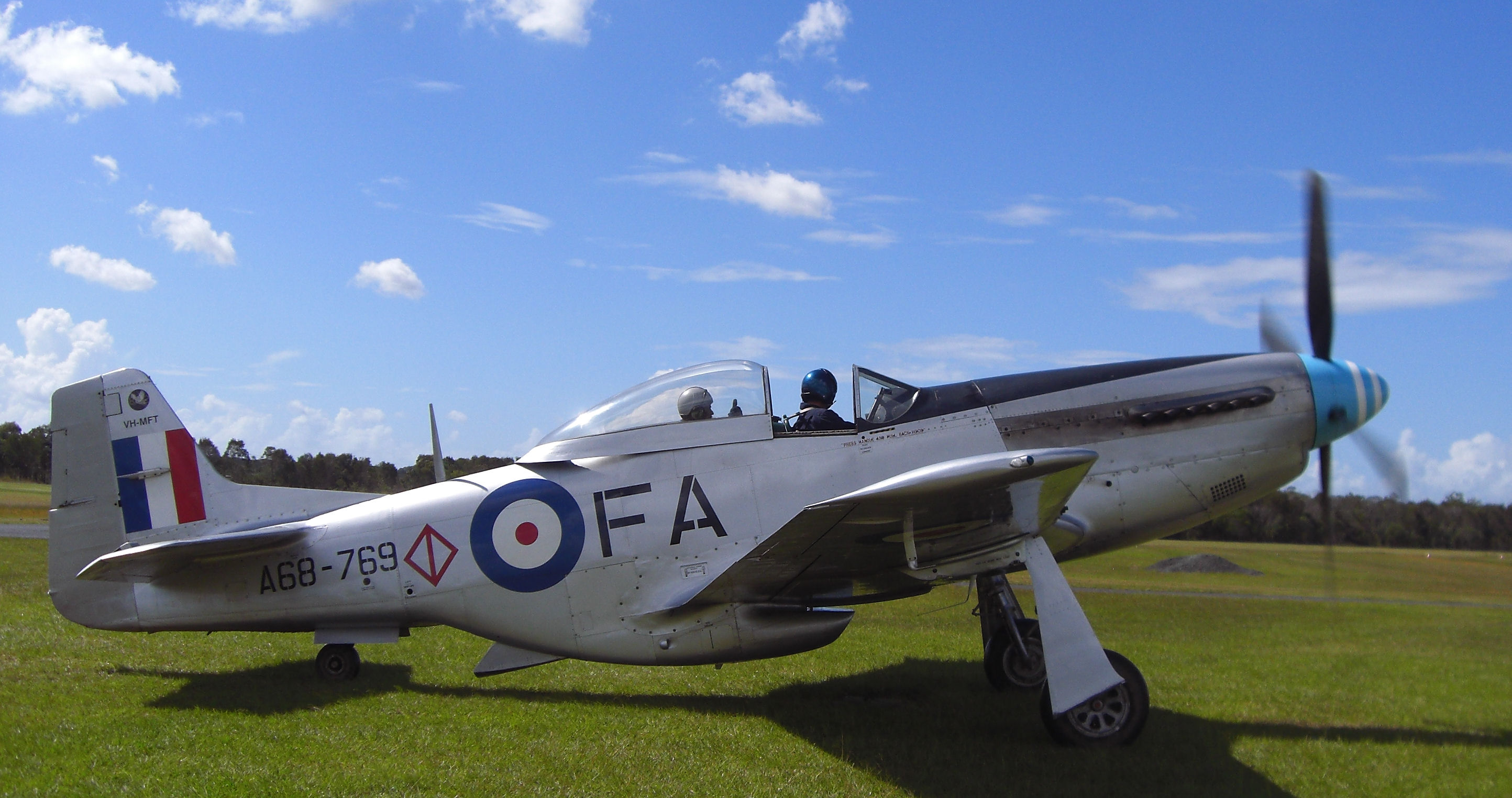 The Mighty Mustang.
Recently, two mates of mine drove up from the central highlands area of NSW to the small airfield at Caboolture, about 50 klms north of Brisbane, to take a flight in one of the few fully-restored war-time Mustang P-51D aircraft still flying – and of course, we went along to have a look. The aircraft is operated by Mustang Flights, a syndicate of 11 people who all have shares in the aircraft and who all love flying the old girl. (Click the images for a better view). And of course, as is usual in Queensland, the weather was perfect.
In late 1939, with the likelihood of full scale war in Europe a major concern, the RAF was looking seriously at methods of quickly increasing its fighter strength. They approached North American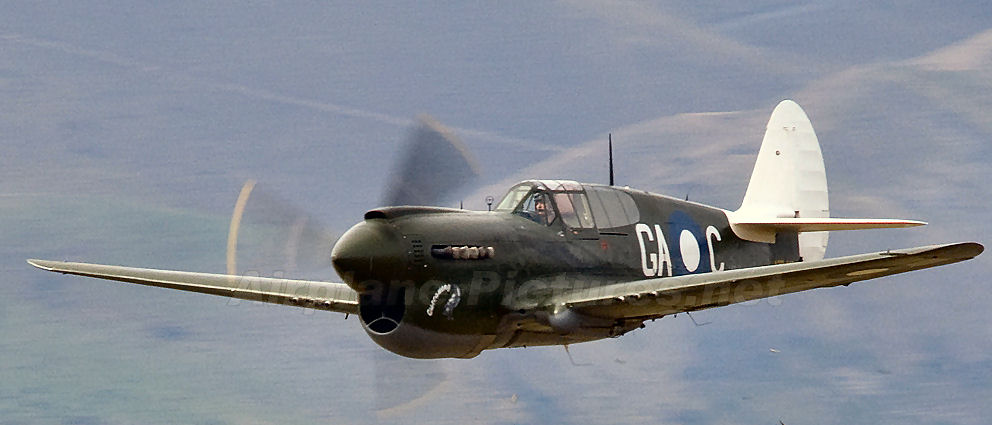 Aviation and asked them to build the P-40 for them, but, as the P-40's design dated from 1933, "Dutch" Kendelberger, the president of North American offered to build them an entirely new fighter using the same Allison V-1710-39 engine used in the P-40. Dutch had visited the UK and Germany in 1938 and saw aircraft being built in those countries and even though his company's only experience in building fighter aircraft was the NA-50A (left), what he saw on his tour had given him ideas.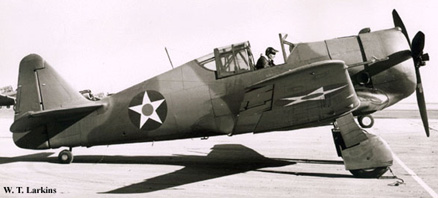 He put together some ideas and the British agreed on the new type on the stipulation that a prototype be on hand within 120 days. North American designers set to it and a prototype was finished in 117 days – but it didn't have an engine. Wheels also had to be borrowed from an AT-6 trainer. Six weeks later, and after several modifications, the aircraft took to the air in October 1940 and production models reached the RAF in November 41.
These aircraft became known as Mustang Mk I (P-51) and Mk II (P-51A).
The original 1,150 hp Allison engine lacked performance at high altitude so the RAF employed the early Mustangs on low-level armed tactical reconnaissance sorties. Development continued and the biggest improvement was the replacement of the Allison engine with the Packard V-1650-7 which was a license-built version of the Rolls-Royce Merlin 60 series with a two-stage two-speed supercharger. This became the P-51D.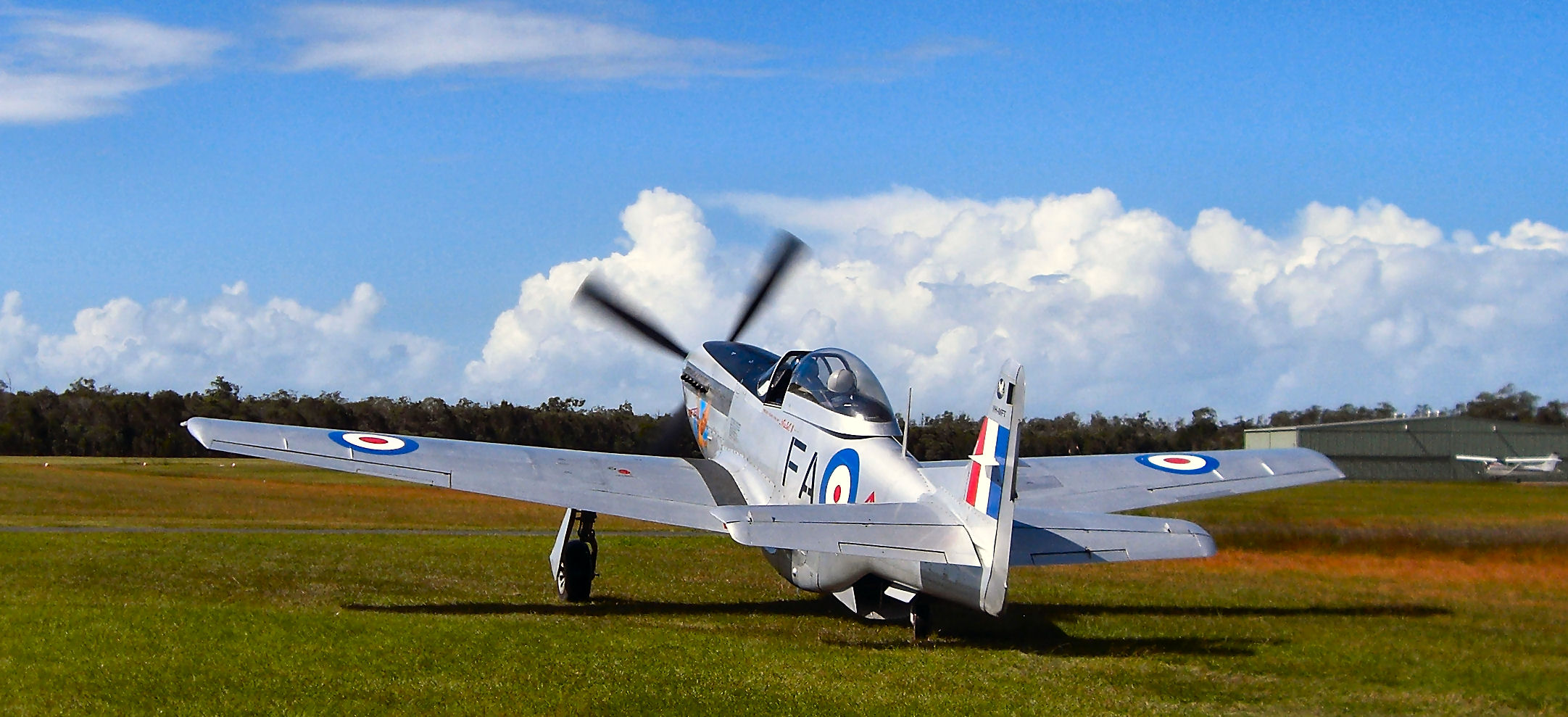 Early in 1943, the US were losing far too many B-17 bombers in their day-light raids into Germany and they soon realized that sending un-escorted bombers into enemy territory in broad day-light was not the smartest thing to do, so they looked around for an appropriate escort fighter. They had their twin engined Lockheed P-38 Lightnings which had the range, but these were only available in very limited numbers in the European theater due to its Allison engines proving difficult to maintain. The P-51D proved to be ideal, In general terms, it was a simple aircraft, it used a single, well-understood, reliable engine and had internal space for a huge fuel load. With external fuel tanks, it could accompany the bombers all the way to Germany and back.
The aircraft at Caboolture is an ex RAAF P-51D (Australian nomenclature CAC 18 Mk21) which was built at the Commonwealth Aircraft Corporation (which built 200 Mustang aircraft) in Melbourne in 1947 – too late for service in WWII. It came out of the factory as A68-110, was delivered to 1AD/ARDU at Laverton then after acceptance, was sent to 78 Wing at Willytown then down to East Sale where it worked from 1950 to 1956. It was eventually Board of Surveyed and ended up in the USA in private hands. While in the US it was involved in a taxiing accident and although the airframe had done only about 500 hours, it was 'retired'.
me years later, it was found by the syndicate, purchased and brought back to Australia where it was fully restored over a 7-year period by Sandora Aviation at Caboolture and had its first post-restoration flight in January 2002. It was decided to restore the aircraft as A68-769, which were the markings of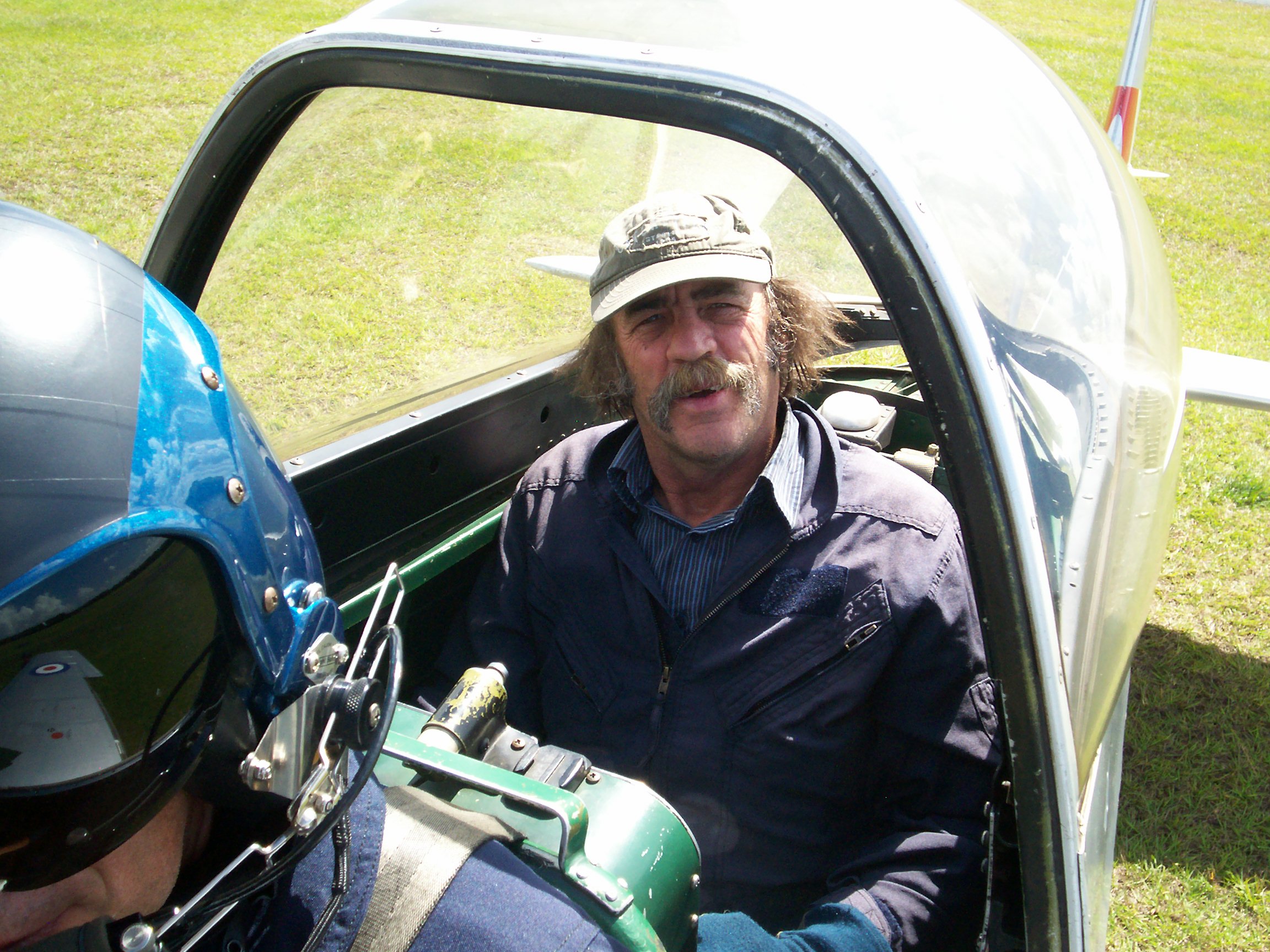 the 82 Sqn CO's personal aircraft. It has been modified into a 2 seat configuration so a passenger can be carried behind the pilot and is now based at the Caboolture Warplane Museum at Caboolture Airport and regularly takes up passengers for the flight of their lives.
Kev Weatherspoon
Bit squeezy in here!!
The two pilots, both syndicate members, who flew the aircraft the day we were there were Mike McConnel, who flies the Boeing 747 with Cathay Pacific and Mark Hall who flies the Airbus. Both these blokes are based in Hong Kong and fly back to Oz just to fly the 'Stang.
For us, it was worth the drive to Caboolture just to hear the magical sound of the big V12 engine at full chat on take off, and my mate's only comment after his 20 minute flight, was "Wish I'd have taken a 40 minute flight!!!"
If you're interested in taking a flight in the 'Stang, or if you just want to go and have a look at it and hear that magical sound, you can get further details HERE.
The last RAAF squadron to finish with the Mustang was 24 Sqn, the Adelaide Week-end Warriors, who flew it until June 1960.
The Specs are: