The Hawaiian.
This is the "most popular" flavour of them all, and also the simplest to make. Here's what you'll need.
Pizza base, pre-treated as before.

¼ cup Rageletto Primavera sauce, ¼ cup Uncle Ben's Hawaiian sweet and sour sauce. Mix together.

1 x 440gram can Bilo (tastes sweeter) pineapple pieces, strained.

1 cup diced bacon.

Perfect Italiano Pizza Plus cheese, White pepper.
Spread the sauce over the base, then add a small amount of cheese. Add the diced bacon. Don't use ham, sliced bacon has much more flavour. Spread the pineapple evenly over the top of the bacon, then cover the lot with cheese, though not too much. Remember, cheese is an insulator.
Dust the lot with white (not black) pepper.
Pop the lot into a pre-heated oven (2000C) and when the cheese has melted, and starts to brown, (about 10-12 mins) remove from oven, slice and enjoy.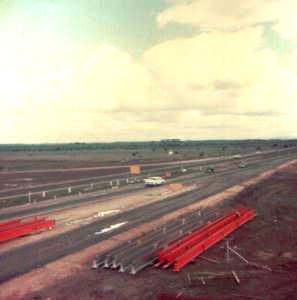 For people who currently live in the vicinity, or for those that have recently been back, it is hard to imagine that the photo above was taken of the Geelong Road, looking towards Werribee, at the intersection into Radschool at Laverton in 1967, only 33 years ago.
Back then you could have probably bought the (worthless grazing) land opposite for about $250 an acre, after all, back then what sane and sensible Victorian would want to live "right out here….."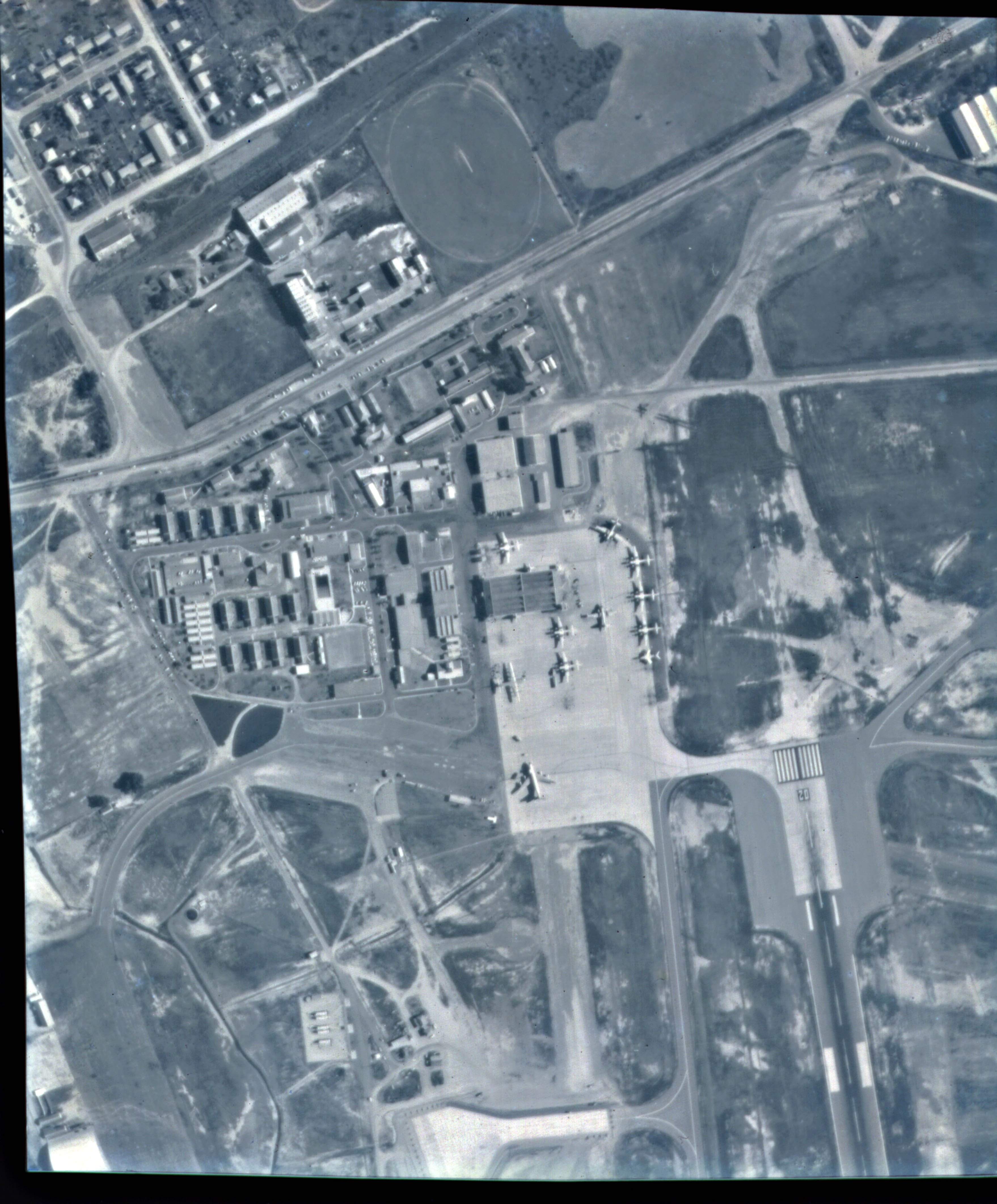 Paul Walsh, now living in Vic, sent us the photo of an Air Force Base (right) that he says was given to him many years ago. He is unsure which base it is, and initially he though it might have been Ubon, but he's ruled that out as the photo clearly shows a cricket pitch (top centre). Paul says he was given the photo by an American while he was posted to Townsville many years ago, the same time as the U2's were there, but he doesn't think it is a photo of Townsville. He asked us if we could identify it for him.
We put the problem to Reg Meissner of Air Services Australia (Reg used to fly Sabres and Mirages) and he put it to Jim Hanigan, also Air Services, and an old Neppy navigator, and they've confirmed that the aerodrome is indeed Townsville, and the photo was definitely taken sometime between '62 and '65, possibly 1965 as the operational stuff would have been done by Mirages after 1966. The photo shows a bunch of 10Sqn Neptunes and one solitary Sabre (bottom right). The runway heading in the photo is 02, but that was later changed to 01. (Check the web photo—the detail is excellent)