Ordering wine at a Restaurant.
It's one thing to learn about wine, and to know how to store it and how to drink it, but what is the correct way to order a wine in a restaurant. There just seems to be tons and tons of "hoo ha" associated with ordering wines in restaurants, so how do we navigate our way through all the RULES! For instance, what do you do when they stick the cork down in front of you. And what happens when you want to drink a Gewurztraminer but can't pronounce it let alone spell it?
The evening's fun starts with the wine list. If you're lucky they've brought you one that is informative which will tell you the type of wine, the producer of the wine, where it was grown (though with some wines it is obvious from the name), and the vintage (year) that it was grown. Since there can be considerable variation in vintages (or the wine may be just too young), this is an important piece of information. If the wine list doesn't tell you, ask!
A lot of people get around this selection problem by always ordering and drinking only a wine they are familiar with, though a big part of the enjoyment of drinking wines is to experience different varieties. If you want to experiment and don't have a clue about the wines on the list, ask the waiter. In a good restaurant, the waiters will have a good working knowledge of the wine list, though a small word of warning. Sometimes the waiter's job is to suggest the most costly wine they think they can get you to buy.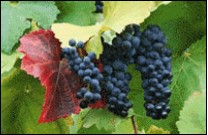 It is also a good idea to decide on what you are having for dinner before ordering the wine. It's amazing the number of people that sit down and order "drinks" before they have even had a look at the meal menu. In a lot of cases this is because the first person they see once seated is the wine waiter whose job is to get as many drinks as possible from the restaurant's fridge onto your table in the shortest possible time. Unless you're out just to get sloshed, don't rush into ordering the wine. The waiter can wait. Wait until every-one at the table has settled on the food they wish to order, then select your wine to accompany the food. Some people may find a particular wine that they wish to drink. That is certainly fine and then they can choose a food that matches the wine.
When your wine comes, look at it. Make sure it's the bottle (and vintage) you ordered. Busy staff can and do make mistakes. The server will remove the capsule (which used to be made of lead foil) but is now made of either aluminium foil or even plastic. The top of the cork should be wiped off (it can be mouldy or have other contaminants), then removed.
The cork is usually then given to the person who ordered the wine. Why? What do you do? This is where some people start to squirm, but don't worry, there is a reason for this though it is more ritualistic than useful. You can sniff it to see if there are any off-smells. This can be your first indication that the wine has problems. It was also meant to show you that the wine you ordered has not been "switched" with a cheaper wine, and the bottle recorked. You can also check the cork to see if it is mouldy (though usually you can spot this from a mile away, and it doesn't necessarily mean that the wine is bad). You can see if it is moist. If it isn't it might mean the wine wasn't stored properly. All meaningless really as most people are going to sip the wine anyway. Some people revel in the standoff of leaving the cork completely ignored and deciding if the server thinks you're either an imbecile or an expert.
The person who ordered will be poured a small amount of the wine for tasting. Having smelled the cork, you may have a good idea if there is something wrong. Give it a small sip. If the wine is bad, there is no reason for you to drink it. Send it back. Most restaurants will accept back a bad wine gracefully. But . . . , one should not be hyper-critical. Many people will tell you that only 1 in a 1,000 bottles is bad, others place it at 1 in 500. Some go so far as to say 1 in 100. Our personal experience is that it is a fairly rare occurrence. DO NOT send back a wine that "is good" but you don't like. You ordered it. You shouldn't have to pay a restaurant for something that is bad for reasons beyond your control.
You probably have seen people "swirl" wine around in their glass. Is that another part of an arcane ritual? Sure, but it also has a good reason. Swirling releases the smells of the wine, which are very important to enjoying the full experience of drinking it. You don't usually need to taste a wine to tell it is off. The nose is enough. Just give the glass to the server and ask him what he thinks if you're not sure. If you're happy with the wine say so, and the waiter will then pour for you.
Another poor restaurant practice is the one of overfilling the glass. A wine glass should not be filled beyond 2/3's full.
If you want any info on Willowvale wines, or should you wish to order any of their award winning wines, go to the Willowvale web site:- www.willowvalewines.com.au/products