The F111.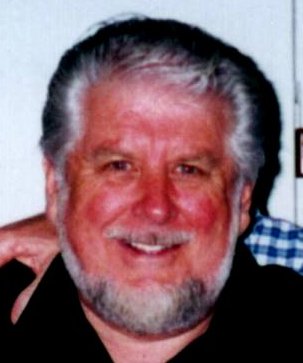 John Harris, who now lives in the USA, and who was sent to the USA in the late 60's to teach the yanks a thing or two about the F111, recalls his time away. He says:
When I joined the RAAF in 1960 my biggest ambition was to travel overseas, and whenever a posting to Butterworth came up I was always the first to apply. When I finally did crack one (I think the Orderly Room were getting sick of me, and wanted to see the back of me) personal reasons prevented me from leaving Australia (at the time), so I had to knock it back, which I suppose really pissed the powers to be right off, after I'd made such a song and dance about wanting to go in the first place. So I stayed at 3AD at Amberley working on Canberras.
Some time later (July 1967) they were looking for additional volunteers to go to the States to learn about the systems on the F111. I immediately told everyone that I didn't want to go, which did the trick because the very next day I received a message to report to Kev Bettiens (Flt Sgt), who was fondly known to one and all as the Beast who said "pack your bags Harris—you, Roy Dash (a Sergeant at the time) and myself are off to the States".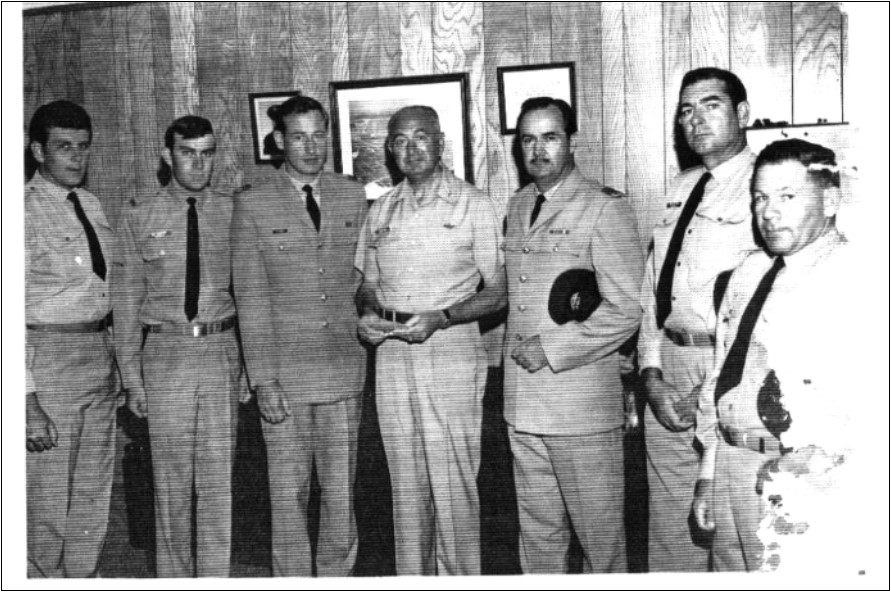 1968 F111 trainees at Kelly USAF Base.
They are L-R: John Harris, Carl Sanford, Bob Howden, USAF training officer, Sqn Ldr Philpot, Kev Bettiens and Roy Dash.
So, in October of 1967, we were sent to Sydney where for two weeks we had very compact and thorough state of the art computer training to prepare us for the new technology of F111's. You can imagine the difference between Canberra gear and F111 electronics, crystal set stuff to colour TV. We were advised by Pay Section that we needed to take tons of our own money as we wouldn't be paid for about ten weeks. Isn't that typical, if a civvy firm knew of payroll problems they would either fix the problem or pay their staff ten weeks in advance, but not the RAAF. Anyway, the Beast nicely explained to us all that we were far too young to know that payroll staff didn't use logic or common sense as it didn't effect them personally.
Judge the level of your success by what you had to give up in order to get it. Nana V.
Eventually, on the 8th Jan 1968, we departed Brisbane airport on our way to Cannon AFB which is in New Mexico, and over-nighted (1st night) in San Francisco. There were about twelve RadTechs, Electricians and Instrument Fitters on our flight and of course being first night away, we really played up. We kicked on at Fisherman's Wharf until almost daylight, and it was here that we learned Americans speak there own version of English as we had quite a few problems that night. We even had a quick game of water polo in the pool at 4am at sub freezing temperatures, with snow falling, much to the amusement of many other hotel guests who were awakened by our splashing and cheering, and of course thought we were all start raving mad—which we were.
The following day we flew to Albuquerque - New Mexico on a domestic jet and then on to Clovis - New Mexico on a DC3 which really surprised me as I had thought everything would be so modern in the USA—which it isn't. While sightseeing we ordered a glass of coke or 7 Up and then learned that Americans serve a glass of iced water with everything, even a cold drink. We also learned how to pronounce Albuquerque which had been the topic of a lengthy debate back at Amberley. Two or three weeks after receiving our airline tickets our group finally decided that this city would be pronounced as "AL BER COO COO", obviously we were all wrong.
A USAF staff car met us at the airport in Clovis to drive us to Cannon AFB where I experienced serious ice and snow for the first time. When I got out of the staff car, I thought that I was stepping onto a cemented area and landed flat on my back—my first encounter with ice. I grew up as a banana bender and only spent a few months of cold weather at Ballarat or Laverton so I wasn't prepared for the freezing cold winds that swept down on the base from the surrounding mountains, all covered with ice. After a few days our skin started flaking and cracking and a couple of other RAAF techs who had been there almost a month told us to use "Dove Beauty Soap" or to rub Johnson's baby oil on our skin. Most of us chose the Dove soap.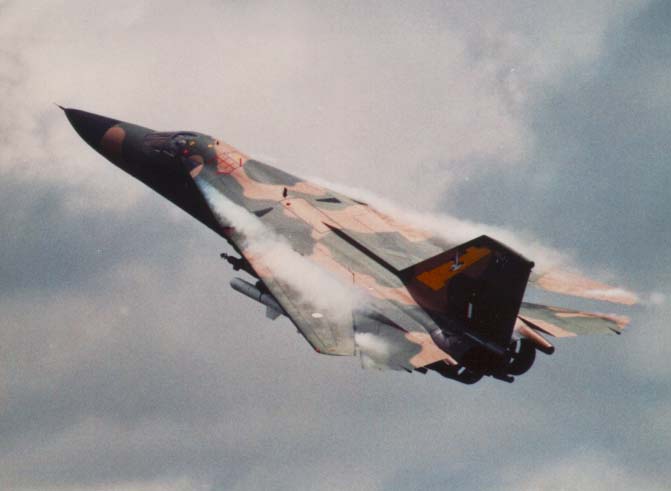 Although first flown way back in December 1964, the year they made the EH Holden,
the F111 is still a fantastic looking aeroplane.
The product training school had not expected Roy (Dash) or myself for another three weeks and had not yet unpacked the new equipment. Roy and I had as much airborne technical experience as our two instructors so we unpacked and installed the new equipment ourselves.
As soon as I had arrived in Clovis, I bought an old Oldsmobile from a USAF bloke for $100 and then put in for travel reimbursement to my next three training locations in Las Vegas - Nevada, Biloxi - Mississippi and San Antonio - Texas. You wouldn't believe the muscle cars that were in Clovis back then (1967 remember), they had A/C, electric seats, electric windows and more power than three cane farmers need. I also realized that the US is full of lots of people with different ethnic backgrounds. For example, 70% of Clovis residents were Mexican-American and mostly spoke only Spanish. One night this Mexican-American USAF bloke and I were cruising around town when I saw a large nightclub called "The Cadillac Bar". This mate explained that the inhabitants didn't like Mexicans or the air force, and advised against going in, which immediately sparked my curiosity. So in we went in, had a few drinks, made a few friends and had a good time learning to do Country and Western dancing.
Unfortunately my trusty old Olds developed problems which restricted it to the local area only. I couldn't afford to fix it, but only realized this after I had submitted my application to drive, so I sold it and hitch-hiked to Las Vegas and so on, a total of 3,000 miles and more.
After hitch-hiking to Las Vegas I caught up with Roy, Kev Bettiens, Marty O'Laughlin, Toby Payne and Carl Sandford. It was then that we learned that "The foreign training office" didn't have any where for us to stay, so they gave us statements to that effect (so we could claim expenses later on), and we put ourselves up at the Vegas Chalet just four miles from the base with the USAF providing transportation to and from the base each day for the month we were there. By living off base we were entitled to $27.50 per day in lieu of the $7.50 we were paid if we lived on base. This suited us fine as we were in for an extra $600 (a fortune then) entertainment allowance if and when we eventually got paid. Our assignment to Nellis in Vegas was for flight line experience with an F111 squadron. By the time we left Vegas we had been in the USA for a little over eight weeks and still hadn't received one cent from the RAAF. Luckily there was a bus stop right in front of the motel and a burger shop with 19 cent burgers next door. We got to know the burger shop proprietor pretty well, and we'd go to the casinos and scrounge their free cocktails, and this helped us get through our RAAF POVERTY PERIOD. Although almost broke, I was able to visit a casino almost every night and study the game of blackjack which was similar to pontoon or 21 played in Australia but with worse odds for the player
The night before we left Vegas, I took a collection of FREE coupons and $20 cash to try my luck at blackjack. I was able to build my bank to about $800 and finally left with $400 and the ability to say that I walked away a winner. Although I have been back to Vegas 5 or 6 times since, I've never played the casinos again—I'm still a winner.
John's mementos of his time away will continue next issue. Incidentally, John recently told us the first time he'd seen an F111 flying over Australia was when it was shown on TV doing a "dump and burn" at the closing ceremony of the Olympic Games.
John would like to throw out a challenge to all ex Radschoolers who live closer to Brisbane than he does, to attend next year's reunion to celebrate the "Good Old Days" plus "The 80th Birthday of the RAAF". Hear hear!!