Vietnam.
We've mentioned 35 Sqn over recent issues, and this stirred a few to write in about their experiences in La Viet, all those years ago. We think it's fair to say that most RAAF blokes that went over, look back on their time "in country" with not unpleasant memories, and without trying to glorify the terribly sad event, and being mindful of the hardships endured by a lot, it's probably true that most blokes and blokettes that went to "Vungers" weren't all that badly done by. There has been volumes written about Vietnam, and about the bad times, but not much has been written about the "better times".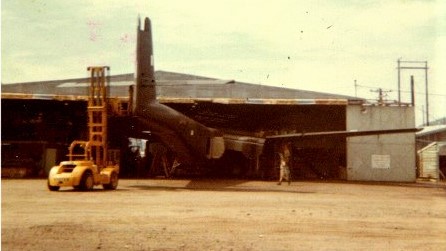 The RAAF hanger at Vung Tau, 35 Sqn this end, with 9 Sqn at the other end.
Nor has there been much written about the ingenuity of the Australian airmen in dealing with some very localised problems. For instance, in June 1966, 9 Sqn were sent over with 8 B model Iroquois helicopters, but when the aircraft and stores were delivered to La Viet, compliments of HMAS Sydney, it was found that the carefully colour coded and palletised stores had been broken down and scattered from one end of the ship to the next. For some months 9 Sqn were forced to make do with a mobile workshop and a couple of tents as maintenance hangers. And the old B model was not designed to be fitted with guns and armour as it caused a serious centre of gravity problem so they fixed that by sticking a lead weight on the tail section.
Later in 1967, 9 Sqn was re-equipped with 16 of the later H model aircraft. Although they were fitted with 2 x M60 machine guns, one each side, these could only fire to the flank of the aircraft, and it was impossible to place covering fire to the front. If troop covering fire was required, the procedure was to call in the Yankee gunships which were provided on an "if we can" basis. This was clearly unacceptable, so it was decided to "build our own", only trouble was, it had never been done before on an H model air-frame with its different electrical and hydraulic systems. Not many people know that the Australian Helicopter Gunship was designed and developed by the blokes of 9 Sqn, in that draughty old hanger at Vung Tau. What resulted was a very successful aircraft that had 2 forward firing mini-guns, 2 rocket pods and 2 paired flexibly mounted machine guns. The yanks of course did things a little differently. They had a unit at Vung Tau called "Guns-a-Go-Go" which was equipped with Chinook helicopters. These things had air to ground rockets, mini-guns, 20mm cannons, 40mm grenade launchers and a number of flexible 50 cal guns. An airborne battle-ship.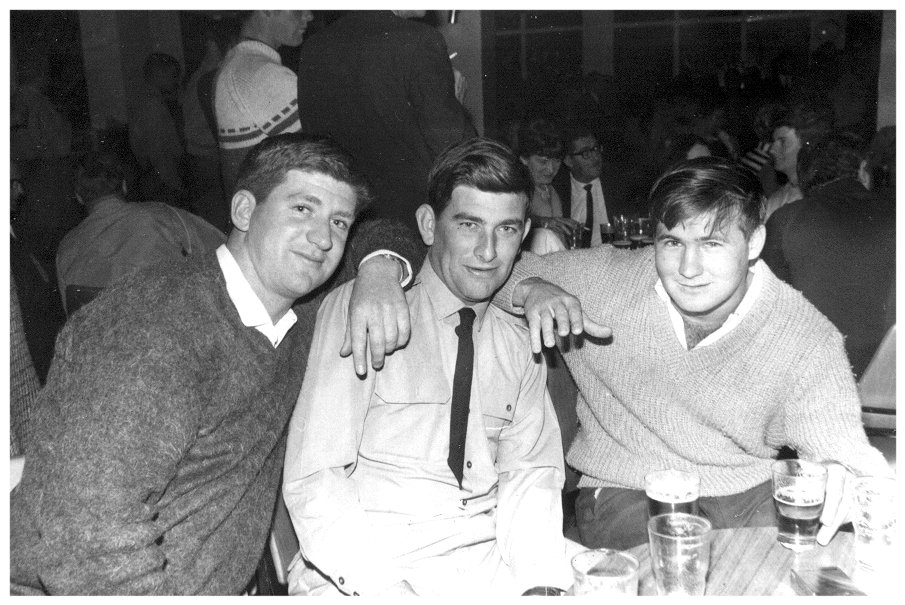 Eddy Morris (centre) being farewelled at Sydney airport by yours and Bill Bishop (right) in 1969.
But, back to the story. Most wars are a series of short and sharp terrible events, separated by a bunch of better or even boring times, and over the next couple of issues we'd like to reminisce some of the better times had by blokes from 9 Sqn, 35 Sqn and support Sqn's at Vung Tau. 2 Sqn blokes went over as well, but they weren't at Vungers, and we can't bring you any info on life at Phan Rang because no-one has written in—but we hope that will change soon. If you've got a story or two to tell, please share them with us.
Actually the comedy started right from the very beginning. Towards the late 60's, most RAAF and Army blokes were transported to Vietnam by way of a Qantas Boeing 707. The aircraft, chock full of eager young blokes and blokettes, all in full uniform and nearly all with a belly full of booze, left their mates behind at Sydney Airport at around 11.00 pm, stopped at Darwin for a load of fuel (a lot can't remember this–though we've been assured it did happen) and then it was on to Singapore for breakfast. Although the dress of the day was drabs, it was regulations to replace the top half of the uniform with a "civvy" shirt before getting off the aircraft. Of course most blokes opted for the loudest and most colourful top they could find with the result you had a bunch of blokes all looking completely stupid. After a breakfast of the world's smallest eggs, it was back onto the aircraft, on again with the uniform, and off to Saigon.
At Tan Son Nhut (Saigon airport), everyone was processed and assembled in groups corresponding to where they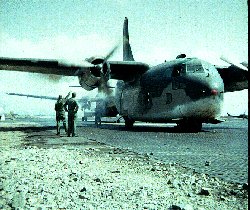 were being sent, and the Vungers' blokes were huddled under a make-shift shelter to get them out of either the sun or the rain—depending on the time of day. Lunch, which was served in a small grey coloured cardboard in-flight ration box, consisted of cold chicken and a frozen bread roll.
C123 on the PSP at Vung Tau with what looks like one of 35 Sqn's Caribous
directly behind. (The bloke who had the contract to supply PSP
must have been laughing—it was everywhere)
Then after a long wait, it was off to Vung Tau. Transport to the coastal town was by USAF C123, the aircraft made famous by Mel Gibson in the movie Air America, but as there were no seats in the aeroplane, everyone was told to sit on a pallet on the floor, and their legs were strapped down with a tie-down strap. (This procedure was later successfully adopted by 35 Sqn where at one time they managed to cram 60 people into a 30 seat aeroplane)
The first thing that struck the RAAF blokes, being used to meticulously prepared and maintained aircraft "back home", apart from the unusual seating arrangements, was the physical condition of the USAF 'plane. The trip was done usually late in the day, when it was raining, and to see water streaming in through holes in the airframe, while in flight, was a little un-nerving. Upon arrival, everyone was marched off to the Orderly Room, given a pep talk by the OC, a "keep your pants on" talk by the Doc, a clearance sheet, a PX ration card, somewhere to sleep, and told to get on with it. Which they did…..
Next issue—life on the airport……..
If you want info on the Vietnam Vets Association, you'll find they provide a ton of information at their excellent web site—http://www.vvaa.org.au/